Reasons to create LIGHTWEIGHT MARBLE and first solutions
Traditional stone slabs derive from "slices" sawn from entire blocks which, measuring a few square meters with a minimum commercial standard thickness of 2 cm and a nominal weight of 54 kg/m2, are then cut into sub-measurements within human capacity to enable installation on façades, covering and flooring
Marble, used since ancient times as a natural decorative element, has as contraindications its weight and resistance to mechanical stress, the more it is used in large slabs.

The ideal would be installation on site of large, light and tenacious stone slabs;
large to emphasise all the natural aesthetic beauty of the entire marble slab,
light to greatly facilitate the relevant installation,
tenacious to widely extend the use field of the marble.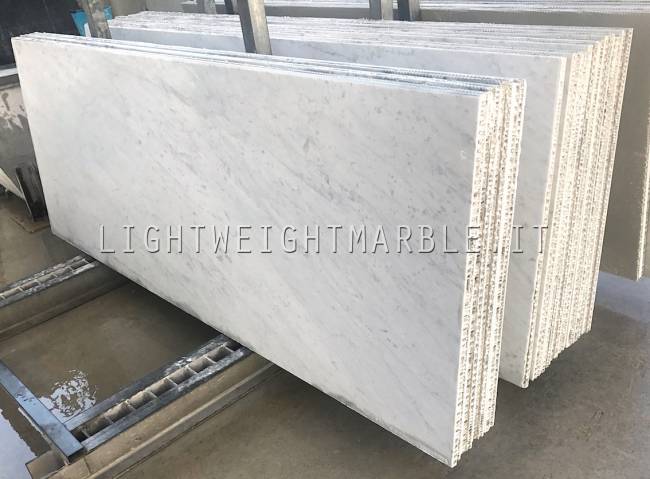 This need developed the path towards lightweight marble by thinning the thickness of traditional stone slabs, overcoming the disadvantage of increasing fragility on decreasing the thickness, coupling a light and tenacious support material (honeycomb) to the stone. However, despite being developed decades ago, this solution has undergone little evolution. The stone industry has always dedicated time and money to the research and development of machinery to increasingly facilitate stone transformation with less and less time and cost, however this leaves marble increasingly "alone" working and evolving only as a "dogmatic sarcophagus", which has characterised it for centuries.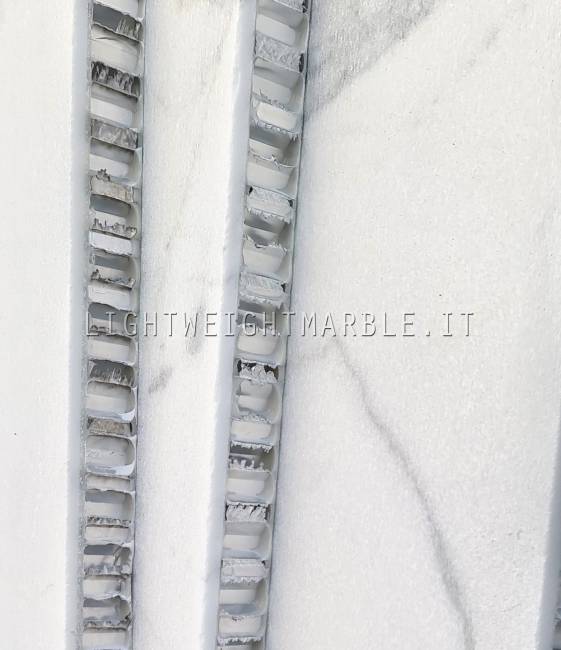 For decades, lightweight marble has been produced by coupling honeycomb to traditional marble with a subsequent reduction in the thickness of the marble itself. What is honeycomb? It is an aluminium honeycomb structure coated in two fibreglass mats impregnated with structural resin. Honeycomb panels are used in all sectors where a product that offers high tensile, compressive and impact strength is required, in the form of an extremely lightweight and durable panel. The panel can be laminated with a wide variety of finishes, such as: ceramic, acrylic, silicone, mosaic, aluminium, wood, stone, etc.. Honeycomb panels can also be used to create a flat surface to allow application of traditional coverings such as polymer-based plasters, external insulation systems and acrylic systems.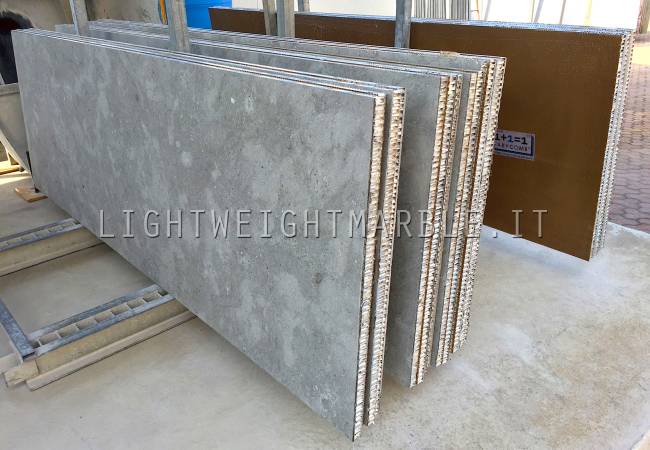 It is therefore a lightweight and tenacious support that resolves marble contraindications. However, we must pay attention to an extremely important reality: a honeycomb panel is a generic panel to support various materials. Here, the need arises to study what type of honeycomb panel and raw materials that compose it, to make the marble lightweight, guaranteed and safe in its performance over time, and not only that, which production processes are more appropriate to bind together profitably and the indissolubly of all the components.